---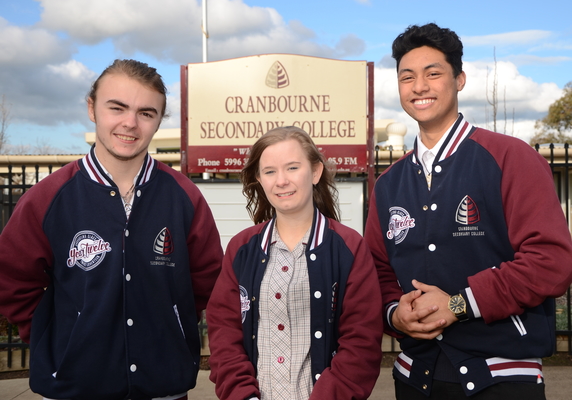 Students at Cranbourne Secondary College need some help to bring happiness to local families affected by domestic violence.
As part of their major community project, Year 12 VCAL students at Cranbourne are planning to take a number of disadvantaged families to Melbourne Zoo for the day.
However, they need a little extra help to get their project off the ground, and are reaching out to the wider community for assistance.
One of the project organisers Sene Smalley said the class was dedicated to helping families in the community overcome and heal with a worry-free day of bonding.
"We chose our topic about family issues, and we are focusing on children who are affected by domestic violence and things like that," he said.
"Our plan is to take the kids and their families to the Melbourne Zoo for a positive day out and give them a chance to forget their worries and bond as families."
"We hope it will be a really great experience for kids and their parents."
Student Neale Reilly has been liaising with local primary schools to identify students and their families who need a fun day out.
"I have been working closely with contacts at local primary schools; going out to and having meetings with wellbeing co-ordinators," he said.
"I have been asking if they have students who may have been affected by domestic violence or whose families have separated, and majority of the schools want to help out."
"Most of the wellbeing co-ordinators are saying it's a great idea and happy to be involved."
Student Skye White said the class came up with a number of suggestions to help people in the community before settling on a trip to the zoo.
"We had about 10 ideas, and we narrowed down to three that were all related to each other that all branched from what people are all passionate about which is helping people in the area," she said.
The class has worked together to organise transport, entry into the zoo for up to 75 people, navigated legal obstacles such as privacy and insurance, but have hit a major snag with the budget.
The class was given a working budget of $1500 for its project, but needs a little more to make the project a reality, and is workshopping fund-raising ideas.
Skye said they had investigated a number of ways to generate donations for the project, and were hoping by letting the community know about their project, they can find a funding partner.
"We have $1500 for our budget, but have reached it just with entry tickets to the zoo," she said.
"We are trying to get donations to get it off the ground, and we are trying to work out ideas of what we can do for more fund-raising."
The students are hoping that if they can get this project up and running, they will be able to bring some light into the lives of local people who need it the most.
"We want to raise awareness for the issue and make it so people know it is a thing and people are suffering as well as give families a day out they deserve," Skye said.
"We want to affect positively for them and us as students a chance to see how we can help and how we as members of the community can drive a positive impact."
The students are attempting to have the trip organised before the end of term on Friday 22 September with a view to holding the event on Thursday 12 October.
To find out how you can help these students achieve their goal and improve the lives of local families, you can give Neale a call on 0421 524 259, Sene on 0420 465 179 or Skye on 0426 925 046
---
Article by Victoria Stone-Meadows.
Original Article published in Star News:
https://cranbournenews.starcommunity.com.au/news/2017-08-30/zoo-trip-for-bonding/