---
Dear Parents, Students and Families,
I hope you are all well and looking forward to the return to on site schooling.
I am writing to confirm some of these arrangements in order to make sure that students return to school prepared and ready to learn.
| | |
| --- | --- |
| Date | Important Information |
| Monday 25th May | Pupil free day, Staff return to school, no on site or remote learning classes on this day |
| Tuesday 26th May | Students in Years 11 and 12 return to full on site classes, remote classes for Year 11 and 12 finish. Students in Years 7-10 continue with remote classes until 5th June |
| Tuesday 9th June | Year 7 – 10 students return to full on site classes (All remote teaching and learning finishes) |
| Friday 26th June | Final day of Term 2 and Semester 1, end of Unit 1 and Unit 3 for Senior student |
Attendance: Any students that do not return to on site classes will be considered absent and standard attendance procedures apply.
Digital technology: The College has made considerable efforts in ensuring that devices are available for all students. The expectation that students arrive at school with a fully charged device ready to learn is now stronger than ever. I would expect to see 100% of our students equipped with a device and ready to learn upon their return
Uniform: Students are reminded to return in full school uniform. PSW is open as of today (Wednesday 20th May). Download the Back to School Update Letter provided by PSW.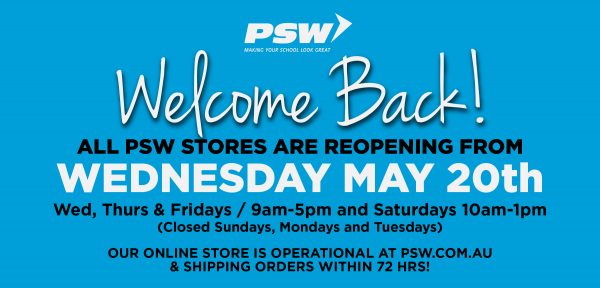 Lockers: At this stage lockers will be accessible, however it is likely that students will have restricted and staggered access
Mobile phone policy: The mobile phone policy remains in place at the College. If it is seen it will be taken. The policy has been reviewed in light of the COVID safe app and students and the CSC Mobile Phone policy will remain unchanged. The COVID safe app can still be used for contact tracing purposes with the phone being seen or used while on school grounds.
Virtual Assemblies: These will be occurring for each group prior to their return to on site learning. These are compulsory and will contain vital information to students regarding their return.
COVID-19, Hygiene and Physical distancing
As part of return to school planning the College is in the process of putting in additional measures to assist in stopping the potential spread of COVID-19. While there have been no recorded cases of the virus amongst the College community, the leadership of the College has taken advice from the Department of Education and Training (DET) and will be implementing all of the recommended measures regarding additional hygiene and physical distancing measures. Some of these include:
Hand sanitizer available in each classroom and in common areas
Additional cleaning occurring during the school day
Guidelines and controls of student movement around potential congestion points (eg exit and entry to some buildings, canteen etc)
Specific lessons regarding hygiene, organization and safe behaviour will be implemented upon return
Students will be required to bring their own refillable drink bottle to school as all water fountains / bubblers will not be in operation
Students are able to bring their own hand sanitizer and wipes if they wish
Parents and other external visitors will not be permitted on site unless expressly invited
Parents are asked to follow physical distancing guidelines when picking up and dropping off students to school.
Student well being: Additional plans are being made to assist and support students as required
Family supports: I am aware of the financial toll that the current situation may have had on some families. The College has an abundance of food that the 2nd Year VET Hospitality students have prepared – a great dinner or lunch option should you need it, please contact the College on cranboune.sc@education.vic.gov.au and request to speak to one of the Principal class members (Catherine, Gilchriest, Jo Cucchiara, George Massouris or David Caughey)
If you have any questions or concerns regarding the return to school please contact me on the above email address.
I would like to thank you for your ongoing support and I look forward to seeing students returning to the College.
David Caughey
College Principal