---
When:
September 9, 2021
all-day
Australia/Melbourne Timezone
2021-09-09T00:00:00+10:00
2021-09-10T00:00:00+10:00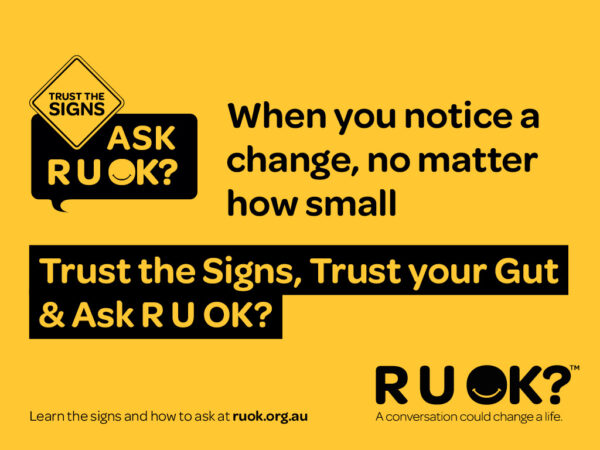 R U OK? Day (Thursday 9 September, 2021) is our national day of action dedicated to reminding everyone that every day is the day to ask, "Are you OK?" and support those struggling with life's ups and downs.
It's a national day of action which aims to prevent suicide by encouraging Australians to connect with someone they care about and help stop little problems turning into big ones.
On that day we want everyone across the country from all backgrounds and walks of life to ask family friends and colleagues: "Are you OK?".
Staying connected with others is crucial to our general health and wellbeing. Feeling isolated or hopeless can contribute to depression and other mental illnesses which can ultimately result in suicide. Regular meaningful conversations can protect those we know and love.
It's so simple. In the time it takes to have a coffee you can start a conversation that could change a life.
https://www.youtube.com/watch?v=KwDTQKR7Lms
You don't need to be an expert to reach out – just a good friend and a great listener. Now more that ever it is important to check in with our friends and colleagues and this years theme is "Are they really OK….Ask them Today"