Course Counselling Information
Pathways and Programs Update
Senior Secondary Certificate Reform: Commencing 2023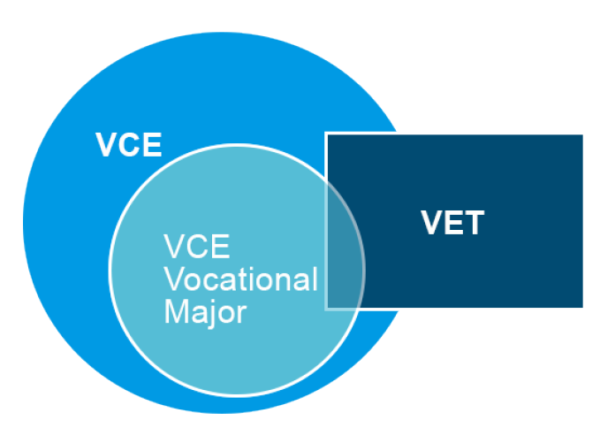 Victoria is moving to a new integrated senior secondary certificate that will bring together our two senior secondary certificates, the VCE and Victorian Certificate of Applied Learning (VCAL). This will give all students the learning opportunities to develop the skills and capabilities needed to succeed in further education, work and life.
In 2023, Cranbourne Secondary College will offer the new VCE Vocational Major Certificate for all Year 11 students. Students enrolling in the Year 12 VCE VM will still be taught using the current VCAL Senior curriculum.
From 2023, enrolment options for Year 11 and 12 students will include:
• the Victorian Certificate of Education (VCE)
• the Victorian Certificate of Education Vocational Major (VCE VM)
• the Victorian Pathways Certificate (VPC).
A fully integrated VCE will be implemented from 2025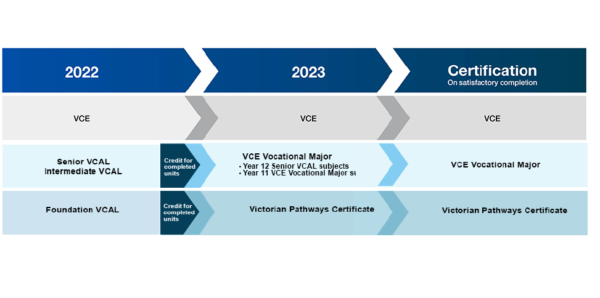 Course Counselling
Course Counselling interviews will be conducted by our College Counsellors, who will talk with your child about the choices they have made. They will ask the student to reflect upon their achievements so far and to explain how and why the pathway they have chosen may suit them.
Handbooks
Course Selection Dates
These further dates will also help inform you of the timelines and the preparatory work being done in classrooms prior to course selection.
Course Selection Dates
Wednesday 27 July
The New VCE Explained Information Session – Online 7pm
Wednesday 27 July
Course Counselling  Year 11 into 12 (Year 11 VCE students finish at 1.20 pm VET students as normal)
Thursday 28 July
Course information program (ZiSS) Year 10 into 11
Friday 29 July
Course information program (ZiSS) Year 10 into 11
Monday 1 August
Course confirmation follow ups Year 11 to 12
Wednesday 3 August
Year 10 into 11 Course Counselling
Monday 8 August
Year 8 into 9 Course Selection begins
Year 9 into 10 Course Selection begins
Course confirmation follow ups Year 10 into 11
Friday 19 August
Year 8 into 9 Course Selection concludes
Year 9 into 10 Course Selection concludes
VCE
The Victorian Certificate of Education (VCE) is the main senior secondary certificate in Victoria. It recognises successful completion of secondary education and provides a valuable pathway to tertiary study and employment.
A VCE program includes a number of different VCE studies (or subjects), with the majority consisting of four units that can be completed over the two years (a unit represents one semester or half a year of work). Units 1 and 2 are typically taken in Year 11, while Units 3 and 4 are usually completed in Year 12. Many schools provide the opportunity for students to study Units 1 and 2 of some VCE studies in Year 10 and Units 3 and 4 in Year 11.
VCE VM
The VCE Vocational Major is a vocational and applied learning program within the VCE designed to be completed over a minimum of two years. The VCE VM will give students greater choice and flexibility to pursue their strengths and interests and develop the skills and capabilities needed to succeed in further education, work and life.
It prepares students to move into apprenticeships, traineeships, further education and training, university (via non-ATAR pathways) or directly into the workforce.
The purpose of the VCE VM is to provide students with the best opportunity to achieve their personal goals and aspirations in a rapidly changing world by:
equipping them with the skills, knowledge, values and capabilities to be active and informed citizens, lifelong learners and confident and creative individuals; and
empowering them to make informed decisions about the next stages of their lives through real-life workplace experiences.
The VCE VM curriculum (Literacy, Numeracy, Personal Development Skills and Work Related Skills) is engaging, based on real life and gives students in-demand skills needed for the future world of work.
Applied learning teaches skills and knowledge in the context of 'real life' experiences. Students apply what they have learnt by doing, experiencing and relating acquired skills to the real world. It enables flexible, personalised learning where teachers work with students to recognise their personal strengths, interest, goals, and experiences.
This is a shift from the traditional focus on discrete curriculum to a more integrated and contextualised approach to learning. Students learn and apply the skills and knowledge required to solve problems, implement projects or participate in structured workplace learning.
Students must complete a minimum of three other Unit 3–4 sequences as part of their program. Units 3 and 4 of VM studies may be undertaken together over the duration of the academic year to enable these to be integrated.
VET
What is VET?
As part of your senior schooling, you can now study courses that not only contribute towards your VCE, VCAL and ATAR (with certain restrictions) but also give you an industry-recognised qualification when you complete that course. The courses are called Vocational Courses and can be studied at school or through another Registered Training Organisation such as TAFE.
These Vocational courses form part of the Australian Qualifications Framework. This is the national standard of training and means that a qualification you receive here, is recognised anywhere in Australia. The courses are also "Competency Based" – this means that you move through the course and achieve the relevant qualification by demonstrating that you have the knowledge and can perform the skills required for that qualification. So, the faster you can learn and demonstrate these, the quicker you can complete the qualification.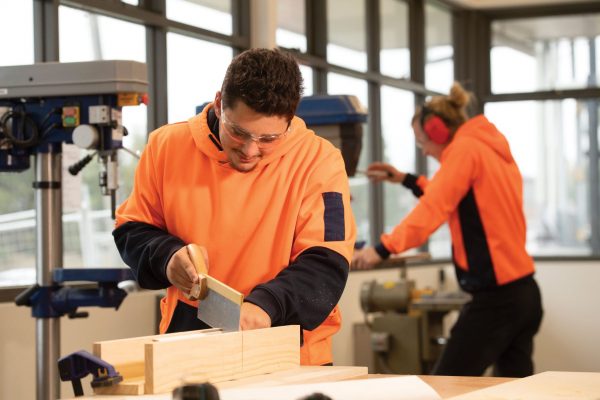 ZiSS – Zoom into Senior Studies
What is ZiSS?
A Senior School Taste Tester program for year 10 students transitioning into year 11
A two-day program where students rotate through a wide range of senior subjects
Students experience senior school subjects with senior school teachers
Attend core senior subjects and senior certificate presentations
What is the purpose of Zoom into Senior Studies?
Give year 10 students a 'taste' of subjects and certificate selections
Enable students to 'explore' subject options and prospective courses
Provide increased 'clarity' regarding the demands and expectations of each subject and certificate selection
Unpack key components of certificate options: the Victorian Certificate of Education (VCE), the VCE Vocational Major  (VCE VM) and Vocational and Education Training (VET)
Privilege time for students to experience and explore their interests, passions and aspirations as they rotate through a range of senior subjects
Meet Senior School teachers and leaders
Strongly position year 10 students to make an informed choice when selecting certificates and subjects in senior school
Head Start
Head Start Program is a model for apprenticeships and traineeships for school students, creating new and exciting possibilities.
Head Start students spend more time doing important, paid, on-the-job training while completing their VCE or VCAL at school.
The program helps students to develop skills and experience that employers value. Head Start helps students to get the best start in their career.
Students can choose to take an extra year to complete their VCE or VCAL but that is not a requirement of the program. Head Start apprentices and trainees spend significant time in the workplace.  This means more time spent training and on the job so that skills and knowledge are applied.
Each Head Start student has a program designed for them. For many students in their first year, they will spend one or two days per week in paid employment. This will increase to three or four days per week in paid employment in the final year which is averaged with full-time work during school holiday periods.
Depending on the requirement of the employer, it is expected that at a minimum students will undertake:
one day per week paid employment in year 10
two days per week paid employment in year 11
two-three days per week paid employment in year 12 (which may be undertaken over two years if required)
Students as they undertake Work Experience or Structured Workplace Learning can request the Head Start team to contact their hosting employer to discuss possible ongoing apprenticeships or traineeships.
To find out more contact the Head Start team in the Pathways space. We support young people to begin their career while at school.
Hear from students, parents and industry professionals who have all benefitted from the Head Start Apprenticeships and Traineeships Program: