Course Counselling Information
Information Evening – Wednesday 16 June, 2021
Our Senior Pathways Evening for Year 10 students and parents will be held on Wednesday 16 June 2021 – 5pm to 8pm online. Due to COVID-19, we are unable to provide our usual face to face event.
We encourage you to watch the video presentations that are available below. We welcome your feedback about these presentations. Please feel free to email the College at cranbourne.sc@education.vic.gov.au.
View the video presented by our College Principal, David Caughey outlining the overall Pathway process 
View the video presentations provided by our expert teachers:
Handbooks
Course Selection Dates
These further dates will also help inform you of the timelines and the preparatory work being done in classrooms prior to course selection.
Course Selection Dates
Wednesday 16 June
Pathways Information Evening –  Broadcast
Thursday 17 June
ZISS /STAT Planning for teachers
Monday 21 June
ZISS survey
Friday 16 July
Course information program (STAT) Yr 9 into 10
Thursday 22 July
Course information program (ZiSS) Yr 10 into 11
Friday 23 July
Course information program (ZiSS) Yr 10 into 11
Tuesday 27 July
Course Counselling 10-11
Thursday 29 July
Course Confirmation 11-12
Friday 31 July
Final date to submit subjects selections online
Monday 9 August
Course Counselling follow ups
College preparation of 2022 courses
Options and Pathways chart
Course Counselling
Course Counselling interviews will be conducted by our College Counsellors, who will talk with your child about the choices they have made. They will ask the student to reflect upon their achievements so far, and to explain how and why the pathway they have chosen may suit them.
VCE
The Victorian Certificate of Education (VCE) is the main senior secondary certificate in Victoria. It recognises successful completion of secondary education and provides a valuable pathway to tertiary study and employment.
A VCE program includes a number of different VCE studies (or subjects), with the majority consisting of four units that can be completed over the two years (a unit represents one semester or half a year of work). Units 1 and 2 are typically taken in Year 11, while Units 3 and 4 are usually completed in Year 12. Many schools provide the opportunity for students to study Units 1 and 2 of some VCE studies in Year 10 and Units 3 and 4 in Year 11.
The video explains the VCE in our college. Download the VCE Course Counselling Presentation
VCAL
The Victorian Certificate of Applied Learning (VCAL) is an exciting alternative pathway option for Senior Secondary education to the VCE. It is a rich program that can be tailored to suit the skills, interests, and goals of a student. It is the ideal pathway for students who are keen to embark on employment, an apprenticeship or traineeship or continue further education in the TAFE sector. In some cases, VCAL can be recognised as an entry point into Higher Education. at TAFE. Students should seek careers advice and research their options before making decisions.
The video gives you an idea of what the VCAL is and how it might work for you. Download the VCAL Course Counselling Presentation
VET
What is VET?
As part of your senior schooling, you are now able to study courses that not only contribute towards your VCE, VCAL and ATAR (with certain restrictions), but also give you an industry recognised qualification when you complete that course.The courses are called Vocational Courses and can be studied at school or through another Registered Training Organisation such as TAFE.
These Vocational courses form part of the Australian Qualifications Framework. This is the national standard of training and means that a qualification you receive here, is recognised anywhere in Australia. The courses are also "Competency Based" – this means that you move through the course and achieve the relevant qualification by demonstrating that you have the knowledge and can perform the skills required for that qualification. So, the faster you can learn and demonstrate these, the quicker you can complete the qualification.
The video will explain the operation of VET in our school. Download the VET Parent Information Session Presentation
To find out more about SELLEN and Chisholm, download the following brochure and presentation: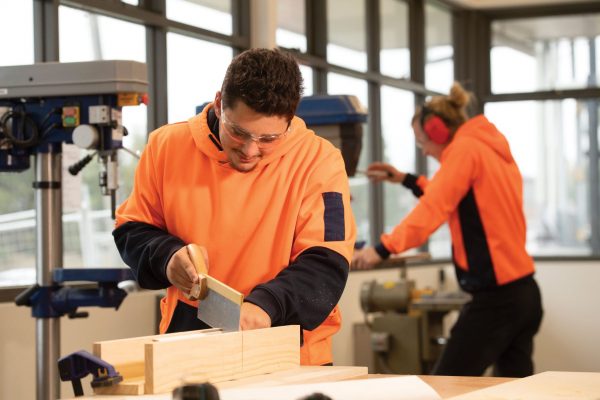 ZiSS – Zoom into Senior Studies
Download the Zoom into Senior Studies (ZiSS)
What is ZiSS?
A Senior School Taste Tester program for year 10 students transitioning into year 11
A two day program where students rotate through wide range of senior subjects
Students experience senior school subject with senior school teachers
Attend core senior subjects and senior certificate presentations
What is the purpose of Zoom into Senior Studies?
Give year 10 students a 'taste' of subjects and certificate selections
Enable students to 'explore' subject options and prospective courses
Provide increased 'clarity' regarding the demands and expectations of each subject and certificate selection
Unpack key components of certificate options: the Victorian Certificate of Education (VCE), the Victorian Certificate of Applied Learning (VCAL) and Vocational and Education Training (VET)
Privilege time for students to experience and explore their interests, passions and aspirations as they rotate through a range of senior subjects
Meet Senior School teachers and leaders
Strongly position year 10 students to make an informed choice when selecting certificates and subjects in senior school
STAT (Subject Taster At Year 10)
Head Start
Head Start Program is a model for apprenticeships and traineeships for school students that is creating new and exciting possibilities.
Head Start students spend more time doing important, paid, on-the-job training while completing their VCE or VCAL at school.
The program helps students to develop skills and experience that employers value. Head Start helps students to get the best start in their career.
Students can choose to take an extra year to complete their VCE or VCAL but that is not a requirement of the program. Head Start apprentices and trainees spend significant time in the workplace.  This means more time spent training and on-the-job so that skills and knowledge are applied.
Each Head Start student has a program designed for them. For many students in their first year they will spend one or two days per week in paid employment. This will increase to three or four days per week in paid employment in the final year which is averaged with fulltime work during school holiday periods.
Depending on the requirement of the employer, it is expected that at a minimum students will undertake:
one day per week paid employment in year 10
two days per week paid employment in year 11
two-three days per week paid employment in year 12 (which may be undertaken over two years if required)
Students as they undertake Work Experience or Structured Workplace Learning can request the Head Start team to contact their hosting employer to discuss possible ongoing apprenticeships or traineeships.
To find out more contact the Head Start team in the Pathways space. We support young people to begin their career while at school.
Hear from students, parents and industry professionals who have all benefitted from the Head Start Apprenticeships and Traineeships Program: