School Production
Current School Production
Each year the College prepares and performs a school production.
After the tumultuous 2 years, we have had in the Performing Arts department we are ready to kick start our new College Production for 2022!
This year we are not doing a musical – but rather a comedy play called 'Grate Expectations'.
We have met with interested students and gauged interest from those who would like to be a part of the show – either on stage or backstage. We have been working our way through the
plethora of students as they audition for one of the 47 speaking roles in the play. We have so many wonderfully talented students at our College.
Casting will be finalised soon and rehearsals will begin on Monday afternoons.
The show will hit our stage in the last week of Term 3.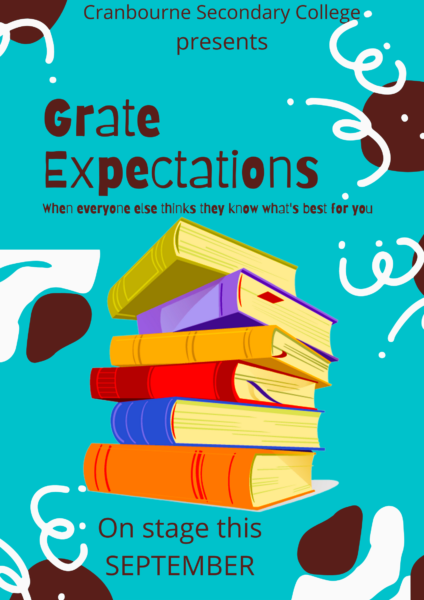 Past School Productions
Each year the College prepares and performs a school production.
In 2019 our College Production was 'Grease'
In 2018 the College is presented 'Alice @ Wonderland'
Participating in the show provides a variety of opportunities that allows students to challenge themselves and build upon their stagecraft skills in singing, acting, characterisation and dancing, along with building their confidence, creativity and collaboration skills; whether they are performing on stage or working backstage. 
Students involved in the school production are from all year levels (7-12), along with a team of dedicated teachers; all working together for the common goal of creating and producing quality theatre for everyone to enjoy.
After-school rehearsals are held weekly in Term 1, 2 and part of term 3 with Sunday rehearsals occurring closer to production week. 'The Big Weekend' is a 2 day rehearsal extravaganza where the cast and production crew work tirelessly to see the production really take shape. This event takes place in May.
Production week consists of a wonderful week long season of school matinees and evening performances.
The College Production offers an exhilarating opportunity to work with others, contribute to a bigger vision and showcase our practical skills.
We look forward to seeing you get involved in next year's show!